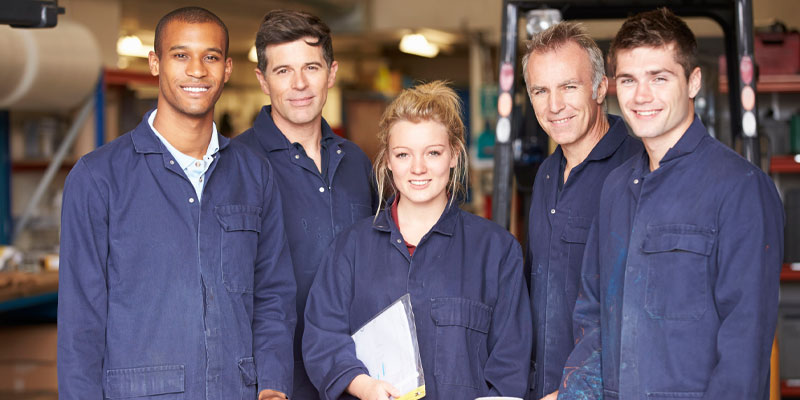 "As the community's college, it's our privilege to train residents for many of the manufacturing industries that we have in our backyard," says Dr. Paul Beaudin, Vice President for Academic Affairs at Suffolk County Community College. While many people may be aware of Suffolk's degree-granting academic programs, the College also has earned a well-deserved reputation for preparing community members for direct access into the local workforce through its workforce preparation programs.

Training Today, Employed Tomorrow
"Our Office of Workforce Development includes our Advanced Manufacturing Training Center," says Laura Galletta, Director of Suffolk's Advanced Manufacturing Training Center. It offers one-semester-long programs that are designed to provide students with the skills needed to be immediately employed in areas that include Computer Numerical Control (CNC) machining, welding, soldering and industrial automation. "Everything is hands-on and employers even come to the college and recruit right out of our classes," she says. In fact, through its training programs and dozens of industry partners, the Office of Workforce Development has been responsible for putting hundreds of Suffolk County residents into jobs over the past 10 years.
Partnering With Industry
"Every two weeks, I go to Suffolk's CNC machining class and assess the students," says Joseph Bryant, Director of Manufacturing at Precipart in Farmingdale, NY. Precipart designs and manufactures high precision custom gears and mechanical components for the medical technology, aerospace and industrial sectors. "Suffolk has created a great pipeline of talent for us. Their students have a great foundation of knowledge and we build on that," he says.
In addition to working directly with regional companies, Suffolk's Office of Workforce Development is also providing instruction to residents through an apprenticeship program funded through the New York State Department of Labor and administered through the State University of New York (SUNY). The initiative is designed to help people build careers in the following occupations: CNC Machinist, Electro-Mechanical Technician, Industrial Manufacturing Technician and Maintenance Mechanic. Currently, 18 apprenticeship students are enrolled at Suffolk through regional companies. Suffolk is presently the only approved educational institution on Long Island to provide the necessary training and instruction for these apprenticeships.
Fast-Track Your Career
As a Metals Technology Specialist at the U.S. Air National Guard Base in Westhampton Beach, NY, Matthew Metcalf is living out an exciting career after successfully completing Suffolk's one-semester courses in welding and CNC machining. "It's very satisfying," he says. "I've been able to take the skills that I learned at Suffolk and put them to good use."
"Our programs have national and international certifications," says John Lombardo, Suffolk's Associate Vice President for Workforce Development. "The students who come through our programs are highly employable and can essentially go anywhere they want."
While some of these students head directly into the workforce, others may choose to continue their education by returning to Suffolk's Advanced Manufacturing Training Center for additional skills enhancement down the road or, even, transitioning into some of Suffolk's degree-granting programs, including Engineering Science, Manufacturing Technology, Cybersecurity, Business Administration and more. "We are helping to cultivate good-paying careers while, at the same time, providing a pipeline of talent for so many important local industries, including pharmaceutical, aerospace, biotech, and more," says Mr. Lombardo. "It's the definition of a win-win for our region."
Companies or individuals who are interested in learning more about Suffolk's Advanced Manufacturing Training Center should contact Suffolk's Office of Workforce Development at 631-851-6200.
Drew Fawcett