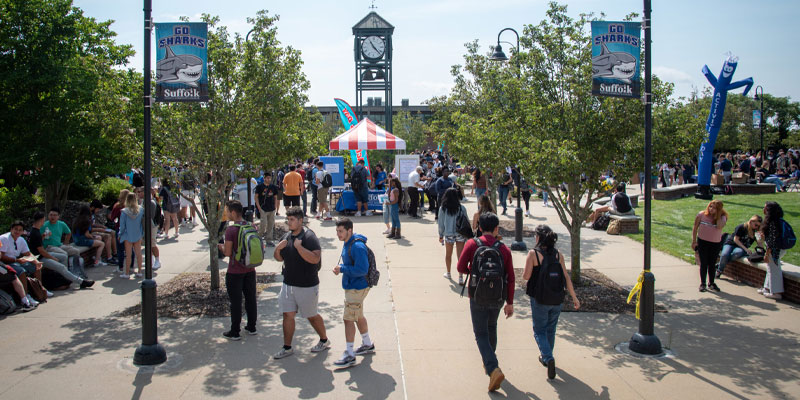 When it comes to living the full college experience, Suffolk County Community College offers something for everyone, from clubs to service organizations to athletics and more. In fact, each campus has an Office of Student Activities and Student Leadership Development which promotes year-long activities, including "Club Days" each fall and spring. Suffolk students can participate in upwards of 150 academic, cultural and special-interest clubs, as well as leadership organizations, student government, honor societies, publications and more. The first step is to simply get involved.
"Most people may not know that we have an equestrian team," says Neftali Collazo, College Associate Dean of Athletics and Special Events. "We have a full range of club sports and NJCAA-sponsored sports that have a rich history of regional and national championship success." In fact, Suffolk is home to more than a dozen national team championships covering soccer, cross country, basketball and more. "Students who choose Suffolk will have an enormous opportunity to excel in their sports while growing as students," he says.
With a broad spectrum of clubs that range from hobbies to academic interests, the hardest part of becoming involved may be figuring out what clubs or organizations to join. The Anime Club, Ballroom Dance Club, College Choir, Environmental Club, Photography Club, Social Justice Club, Student Government Association, and Technology Club are just a few options that Suffolk students can take advantage of.
"It's so important to pursue your passion," says Lisa Hamilton, Director of Campus Activities and Student Leadership Development at Suffolk's Michael J. Grant Campus in Brentwood. "Employers want graduates who demonstrate a willingness to get involved and lead others. Our clubs and organizations provide students with the opportunity to grow both personally and professionally."
The National Center for Education Statistics states that extracurricular activities have become as important as schoolwork in producing well-rounded, confident, successful students. Statistics show that students who are involved and participate in some aspect of campus life tend to see themselves as part of the community, do better academically, and continue their education more than those who do not engage in campus activities.
"There are so many reasons to join a club," says Sharon Silverstein, Director of Campus Activities and Student Leadership Development at Suffolk's Ammerman Campus in Selden. "Some help you with social skills and personality development; others help you with your career. Clubs are a great way to network with students who have similar interests and to explore areas you may never have been exposed to before."
The offices of Campus Activities are also committed to creating student leadership through participation in activities. As part of this effort, Suffolk hosts a Tri-Campus Leadership Retreat on Shelter Island each summer. The two-night, three-day retreat is grounded in the "Social Change Model" and features experiential learning, team-development workshops and hands-on activities designed to help students become agents of positive change.
"Students leave the retreat with a greater sense of self, a greater understanding of their strengths, a heightened understanding of the importance of collaboration, and often a newfound appreciation for service," says Denny Teason, Director of Campus Activities and Student Leadership Development on Suffolk's Eastern Campus in Riverhead. "They gain tools for real-world skills that may be translated to their future occupation or a greater awareness of their role in contributing to the common good."
Even if a student doesn't join a club, they can still be a part of events and opportunities on campus. For instance, students don't have to major in theatre in order to audition for plays and productions. Sometimes the best way for students to get involved is to attend a college event or root for one of the college teams, in order to meet people they wouldn't normally interact with during classes. In short, there is a full collegiate experience waiting here at Suffolk!
Drew Fawcett
Go Sharks!