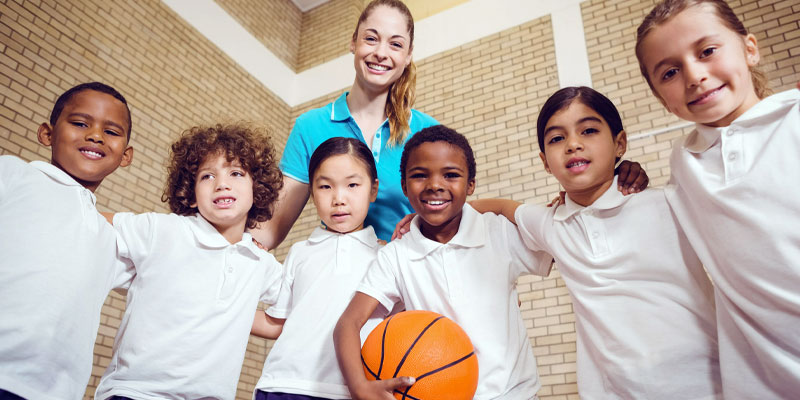 Physical education teachers work as state certified educators who are responsible for instructing students in health, fitness and sports within a structured, K-12 school environment. Whether they are instructing kindergartners or coaching high school-aged adolescents, the process involved in becoming a physical education teacher is fairly similar.
"Becoming a physical education teacher is for dedicated individuals who love kids, sports and physical fitness. Today more than ever good health, nutrition and exercise are important for our nation's children, and Physical Education teachers play a central role in their students' overall development. If you love sports, are passionate about health and fitness, and want to work with kids, becoming a K-12 physical education teacher could be a great career choice for you," says Chris Cosenza, Academic Chair and Professor of Physical Education at Suffolk County Community College.
Education and Certification
A bachelor's degree and a teaching certificate have become the standard for teachers throughout the U.S., regardless of the type of teaching specialty. Beyond a bachelor's degree, a graduate degree has also become commonplace, and many states are now requiring the completion of a master's as part of the continuing education process. Getting your start at Suffolk is an excellent way to experience a first-rate Physical Education program close to home while saving tens of thousands of dollars during the first two years of study.
Suffolk's program prepares students to transfer to a four-year college or university that offers a Bachelor of Science degree in Physical Education. Through the study of human movement, this program prepares future professionals to promote high quality physical education and physical activity programs for children. It will provide students with a foundational knowledge on the processes through which individuals obtain optimal wellness, physical skill, and fitness. The program is available for full- or part-time.
Connor Moller graduated from Suffolk with an Associate of Science degree in a Physical Education and is continuing his studies at SUNY Cortland. His goal is to become Physical Education Teacher, preferably in a high school setting. "I am so glad I went to Suffolk," he says. "The faculty really cared, they made sure you understood the material, and I felt Suffolk really prepared for my next two years of study."
Why are Physical Education Teachers Important?
Physical education teachers help students learn the importance of physical activity and how it contributes to their overall health and wellness. They use a holistic approach to help children understand how physical activity, intellectual learning and nutrition combine to create a positive outcome for life.
It has been proven that physical activity helps regulate stress levels. These days, even young children are pushed hard to perform well on standardized tests, and complete overwhelming amounts of homework. Physical Education teachers provide an outlet for at least an hour a day, where youngsters can focus on purely physical tasks, including jogging, jumping or throwing a ball.
Beyond physical activity, Physical Education teachers frequently teach other aspects of health such as nutrition. Students need to learn more about healthy diets if they are going to be active agents in the struggle against obesity, and physical education teachers can help them understand how all the pieces of a healthy lifestyle fit together.
Job Prospects
While most schools only have a demand for a few Physical Education teachers, the nation is seeing growth in the education sector overall. According to the U.S. Bureau of Labor Statistics, the job outlook for high school teachers in general continues to be positive. Salaries are also good, with high school teachers earning a median annual salary of $60,320. As teachers improve their academic credentials with a master's degree and hands-on teaching experience, their earnings are likely to increase, as well.
For more about Suffolk's Physical Education Program, simply call 631-451-4111 or visit sunysuffolk.edu/Enroll.
Mary M. Feder