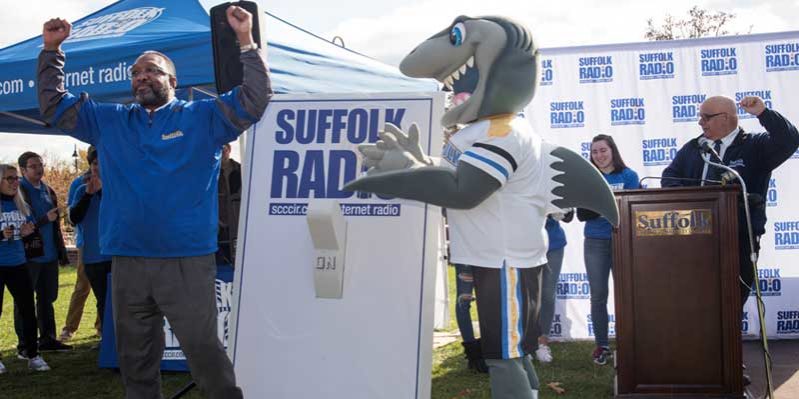 By Drew Fawcett
"Suffolk has given me a unique opportunity to work with the most advanced technology in the radio industry while learning from experienced professionals," says Joseph Panzarino, a second-year student at Suffolk County Community College. This past fall, Mr. Panzarino, his fellow students and their instructors from Suffolk's Radio and Television Production Program launched the institution's first-ever internet radio station. Streaming the biggest hits of yesterday and today, it can be found 24/7 at scccir.com. Dubbed "Suffolk Radio," the station is now an integral part of the Radio and Television Production Associate Degree Program.
Students who are pursuing a degree in the program now have the opportunity to intern at the radio station under the expert supervision of General Manager Bill Terry. With more than 40 years of broadcast management at leading stations, including WBLI/106.1 FM and WALK 97.5 FM, Mr. Terry has earned a reputation as a mentor to some of the top names in New York City and Long Island radio.
"Our intern staff members are treated just like employees at a radio station," says Mr. Terry. "They have an obligation to provide 150 hours of service in a semester and, in return, they receive four academic credits." Students will be responsible for keeping the station programmed as much as two weeks in advance. Under supervision, they will learn about automation programs and will build program days on a regular basis. By the time they have completed their internship experience, students will possess the entire skill set necessary to work for an automated radio station.
In general, Suffolk's Radio and Television Production Program is designed for students who plan careers in video and sound or related industries. In addition to the new radio station, students gain access to three sound production studios, a 1,200-square-foot High-Definition (HD) television studio, electronic field production equipment, digital filmmaking, and linear and nonlinear editing suites — including a new 4K editing suite opening this spring. Graduates of the program can enter the industry immediately or continue their studies at the university level. The program prides itself on its many valuable relationships with metro-area television and radio stations and production companies and stresses active learning by putting students into real-life situations.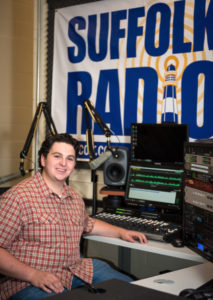 Over the years, Suffolk graduates have gone on to become network vice presidents, local and national network personalities, and a long list of Emmy Award winners. "We have turned out a tremendous amount of talent from this program," says Alan Bernstein, Professor of Radio and Television. "We provide a practical approach to broadcasting and we encourage students to fully utilize their creativity. Our graduates are well prepared for real life and never afraid of what they will encounter."
While there are too many to name, a few notable graduates include: Vincent Fusco, Vice President of alk Television for NBC; Andrew Levine, Senior Broadcast Engineer at Globecomm Communications; Debra O'Connell, Vice President for Marketing at ABC; Bob Palladino, Senior Audio Engineer for Saturday Night Live; Jason Kornweiss, Vice President of Strategic Projects for Diversified; Gary Simmons, Peabody Award winner for Dateline NBC; Wendy Wild, on-air personality for WKTU FM; and veteran New York area television reporter Jill Nicolini.
Like the TV production part of the curriculum, Suffolk Radio aims to be a wellspring of forthcoming talent for the radio industry. The music featured on Suffolk Radio reflects the diversity of our students and the communities it serves by offering a variety of hits from 60s icons, such as he Beatles and he Rolling Stones, all the way through contemporary pop artists like Justin Timberlake and Bruno Mars. By visiting scccir.com, students and community members can view recent tracks and even request songs.
For more about Suffolk's Radio and Television Production Program, simply call 631-451-4111 or visit sunysuffolk.edu/Enroll.