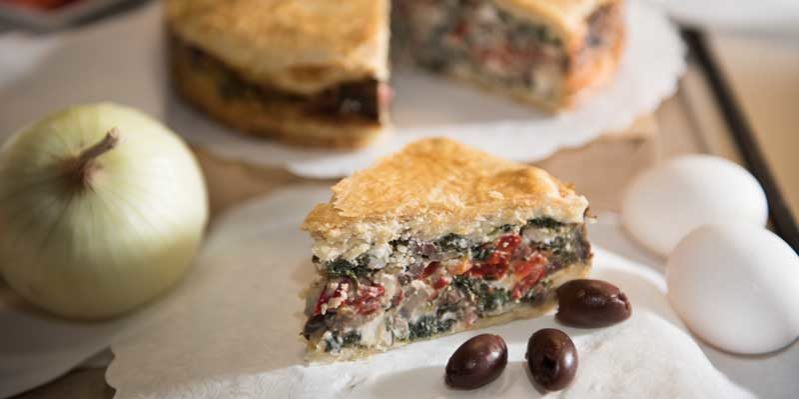 Suffolk County Community College offers degree and certificate programs for those who have an interest in Culinary Arts, Baking and Pastry, and Hotel and Resort Management. Students gain hands-on experience in state-of-the-art kitchens, dining rooms and even a retail bakeshop, the Baker's Workshop. Our faculty are renowned chefs, bakers, restaurateurs, caterers and hoteliers from around the nation and Long Island. As a way to celebrate our passion for cooking and baking, we are sharing one of our favorite Mother's Day brunch recipes and launching a contest to find yours.
Submit your favorite original recipe for a brunch item and you could win dinner for four at Suffolk County Community College's Culinary Arts and Hospitality Center! A second-place winner will receive lunch for two and a third-place winner will receive a $25 gift certificate for the Baker's Workshop. To enter your Mother's Day brunch item recipe, visit sunysuffolk.edu/recipecontest for full details.
Mediterranean Brunch Torte
8-inch springform pan
2 10-inch pie sheets
1 tsp olive oil
1 tsp dried oregano
8 ounces baby spinach
1 cup sliced mushrooms
½ cup Kalamata olives, sliced
1 cup sliced roasted red peppers
½ cup fine diced onions
8 ounces goat cheese, crumbled
½ cup grated parmesan cheese
6 large eggs
Preheat oven to 350 degrees:
Place greased springform pan on a double layer of aluminum foil. Securely wrap foil around pan.
Place first layer of pie dough into pan and press dough into corners and a quarter of the way up the sides of the pan.
Prebake crust for 10-15 minutes until lightly browned and let rest.
Sauté onions in olive oil until caramelized. Add mushrooms and cook until tender. Drain and set aside.
Blanch spinach in boiling water. Shock in ice water with a mesh strainer. Drain and squeeze out excess liquid.
Combine spinach, olives and mushroom mixture with crumbled goat cheese. Blend well and set aside.
Whisk eggs, parmesan cheese, and oregano with a few grinds of whole black pepper.
Begin layering prebaked crust with: half the spinach mixture, all of the sliced red peppers, and half the egg mixture. Continue layering with the rest of the spinach mixture, then the rest of the egg mixture.
Place the second sheet of pie dough on top of the torte, tucking in the excess dough down the sides of the pan. Egg wash the crust. Place on a sheet pan before baking.
Bake in a 350-degree oven for 45 minutes to one hour, or until a thermometer inserted into the torte reads 160 degrees. If the crust is browning too quickly, cover with a piece of aluminum foil to finish cooking. Remove from oven and let rest for 20 minutes. Run knife along the side of pan to loosen torte. Release side from pan. Enjoy!