If you have a desire to help others and enjoy a job where something different happens every day, a career in criminal justice may be for you. Suffolk County Community College offers an Associate of Science degree in Criminal Justice to fulfill the needs of students with diverse career goals.
The program also offers internships that are available to help students gain valuable on-the-job experience, day and evening classes and qualified instructors who possess criminal justice experience. The classes are available on the Ammerman Campus in Selden, the Michael J. Grant Campus in Brentwood and the Eastern Campus in Riverhead.
"The criminal justice program at Suffolk offers students a great learning experience, especially if you're uncertain about what you want to do in the field of criminal justice," says Adrianna Hernandez, a current student in Suffolk's Criminal Justice program.
Students in the program can choose to become police officers, security personnel for corporations, private investigators, homeland security officers, youth detention officers and more.
"A lot of our students want to get into local law enforcement," says Mike Higginson, Assistant Chair of the Social Science/Criminal Justice Department and the Collegewide Criminal Justice Coordinator at Suffol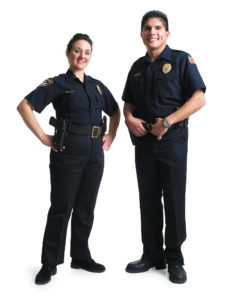 k. He is also a retired New York City Police Department Commanding Officer and Deputy Inspector. "They mostly want to join local police departments such as the Suffolk County Police Department or New York City Police Department."
Some students are interested in joining the FBI, Bureau of Alcohol, Tobacco, Firearms and Explosives (ATF) or Secret Service. For students not already working in the field, guest speakers, as well as faculty retired from the field, bring on-the-job expertise to the classroom to better understand the multitude of options that await them.
"Our faculty includes police supervisory personnel, attorneys, probation officers, and forensic experts. In addition, the former Suffolk County Police Commissioner and a Deputy Bureau Chief from the Brooklyn District Attorney's Sex Crimes Unit have joined our staff," says Higginson. "Students really appreciate faculty members with practical experience. Our goal is to give them the education they need so they can achieve their goals."
Enrollment in criminal justice at Suffolk has never been stronger, something Higginson attributes to its reputation as a great program.
"If you're interested in being a police officer, Suffolk's Criminal Justice program is the place to start," says Suffolk student Korianne Cosgrove.
To learn more about the Criminal Justice program at Suffolk, simply call 631-451-4111
Mary M. Feder
Jobs in Criminal Justice
Police Officers 
Typical police officer duties include protecting lives and property, apprehending lawbreakers, patrolling their jurisdictions, issuing citations, responding to calls, investigating burglaries, giving first aid to victims, writing reports and testifying in court.
Annual Salaries: 
Suffolk Police Department: Over $110,0000 (base)
Nassau County Police Department: Over $106,000 (base)
New York City Police Department: Over $76,000 (base)
Source: Newsday and the Freedom of Information Request
Corrections Officers
Corrections officers oversee people serving time in jail or prison by maintaining security to prevent disturbances, assaults and escapes. They sometimes search for contraband, settle disputes and enforce discipline.
Corrections Officer – Over $46,000 (base)
Source: www.salary.com
Security Industry 
Security guards patrol and inspect property to protect against fire, theft, vandalism, terrorism, and illegal activity. They enforce laws on the property, deter criminal activity, and may be armed.
Security Industry – From $23,000 to over $70,000, depending on position.
Source: www.simplyhired.com
Police Internship Opportunities
Suffolk County Police Department's Police Academy is located on the Michael J. Grant Campus in Brentwood. The Suffolk County Police Department offers a Police Internship Program to students who are interested in law enforcement. The Suffolk County Police Internships' mission is to provide the public with an opportunity to better understand law enforcement with class time and hands-on experience. The internship is open to all criminal justice students at Suffolk County Community College and students on the Michael J. Grant Campus in Brentwood have a unique opportunity to intern at the Police Academy and then take their classes on the same campus. The internship is worth three credits and is spread over three months. It is offered in the spring, fall and summer semesters. The Suffolk County Police Internship Program will give each student a representative sampling of the comprehensive training that every police recruit must complete before they can transition to patrol duty.