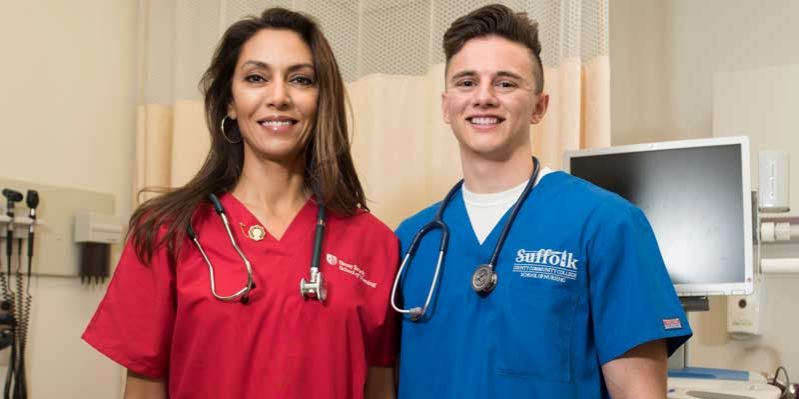 <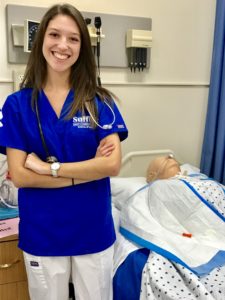 Ashley Camacho of Medford, N.Y. is pursuing her passion for nursing through the Suffolk-Stony Brook Nursing First Program.[/caption]>
By Drew Fawcett
At $2.8 trillion, the healthcare industry in the United States is so large that it's practically an economy in itself — and it's only poised for more growth. In fact, seven of the 10 fastest growing careers are in healthcare, with registered nurses in high demand. The United States Department of Labor projects the addition of about 440,000 new job openings for RNs through 2024, and nearly 700,000 retirements in the field. What's more, the New York State Department of Labor has forecasted a 15 percent increase in the number of available registered nurse positions right here on Long Island.
To meet this expected demand and to help aspiring nurses study and stay in our region, Suffolk County Community College and Stony Brook University have partnered to create Nursing First, an exciting joint admission program. Students accepted as Nursing First scholars will complete their first two years of study in Suffolk's RN program and then matriculate seamlessly into Stony Brook University's Bachelor of Science degree in Nursing.
A recent education law signed into legislation this past December mandates that all new nurses will need to have "…attained a baccalaureate degree or higher in nursing within 10 years of initial licensure in accordance with the commissioner's regulations."
"The Suffolk-Stony Brook joint nursing program creates a pathway and partnership for our nursing students to progress directly from the largest and best SUNY associate degree program to the best bachelor's program in our great SUNY system," says Suffolk County Community College President Dr. Shaun L. McKay.
"The purpose of Nursing First is to facilitate academic progression to higher levels of education in nursing," said Kenneth Kaushansky, MD, MACP, Senior Vice President of Stony Brook's Health Sciences and Dean of the School of Medicine. "It will also help build a stronger nursing workforce on Long Island and in New ork State."
The educational model emphasizes the importance of supporting a smooth academic transition between associate degree and baccalaureate programs of nursing. "Our colleagues at Suffolk do an outstanding job in preparing and diversifying our nursing workforce with the selection and training of future nurses," said Dr. Lee Anne Xippolitos, Dean of Stony Brook University School of Nursing. "With an ever-changing healthcare landscape, the need to educate nurses who are skilled at the highest levels is necessary. This program provides the students with a wonderful bridge to that education."
A generational changing of the guard is underway. About one-third of the nation's workforce, around one million RNs, are currently older than 50. The American Nursing Association projects a whopping 1.2 million openings will emerge for RNs through 2022.
"Suffolk and Stony Brook University's creation of the Nursing First Program provides a direct pathway between our SUNY institutions for students to continue their education in nursing," said Cheryl Shaffer, RN, PhD, Associate Dean, Suffolk County Community College. "Furthermore, our students can now 'learn while they earn,' with many taking advantage of employer tuition assistance and flexible working hours provided for RNs pursuing a BS degree in nursing."
Seats in the Nursing First Program are highly competitive and students can apply to Suffolk for the Nursing First program as high school seniors. "It's an amazing opportunity," says Ashley Camacho, a first-year Nursing First student from Medford, NY. "It's affordable, I'm guaranteed a spot based on my GPA and I'll get to move right into Stony Brook's program, which is so respected." While the program asks a lot of its students, the rewards are promising. "I'm doing more work than I ever have," says Ms. Camacho. "I'm already in clinicals in my first semester! I'm learning how to think like a nurse. To be so young and to already have this kind of career ahead of me…By the age of 19, I'll be an RN, moving on to Stony Brook and getting ready for a great future, all without a bunch of debt."
For full criteria and admissions information about the Suffolk-Stony Brook Nursing First Program, simply call 631-451-4111 or visit sunysuffolk.edu/Enroll.