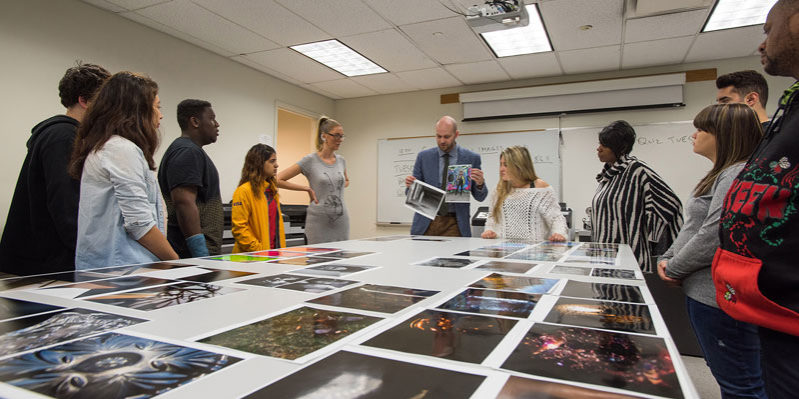 "The world needs creative people," says Janelle Brooke of Janelle Brooke Photography. Based in Northport, N.Y., Ms. Brooke's company includes a business partner and a collaborative team of associate photographers who specialize in custom wedding and portrait photography. While growing up, Ms. Brooke always had a creative impulse but found a way to apply her talent toward a career in photography while enrolled in Suffolk County Community College's Photographic Imaging Program.
Since graduating from Suffolk and starting her business just over 12 years ago, Janelle Brooke Photography has been recognized as one of the best wedding photography companies in the region by theknot.com, the nation's largest source for wedding resources. Additionally, some of her work has been featured in People magazine and on ABC's Good Morning America.
"Classes were challenging, but the professors were attentive and personable. The program taught me how to be an artist while also preparing me for the real world," she says. "Suffolk's program is like a hidden gem with a wonderful sense of community that allows students to grow in an incredibly supportive environment."
"If you want to study photography and seriously pursue it as a career, there's nothing comparable on Long Island," says John Cyr, Assistant Professor and College Coordinator of Photographic Imaging at Suffolk County Community College. His conviction is understandable. The College's associate degree in Photographic Imaging provides in-depth study of professional photographic practices anchored by a two-year sequence in digital photography. It is offered on both the Michael J. Grant Campus in Brentwood, N.Y., and the Eastern Campus in Riverhead, N.Y. Emphasis is placed on individual creative growth in small classes that average only 16 students.
"We work to develop each student's personal style," says Allen Keener, Professor of Photographic Imaging. "These are not transactional relationships. We foster an environment where we can truly mentor our students."
"We offer a truly unique opportunity for students," says Ralph Masullo, Assistant Professor of Photographic Imaging. "While there is a strong emphasis on being creative and developing a portfolio that expresses personal style, students also learn marketable skills on the technical side of digital photography."
High-End Equipment, Real-World Learning
Suffolk's Photographic Imaging students receive unique access to professional, high-end equipment that they may encounter if working at a national magazine, including medium-format digital Hasselblad cameras and the ability for students to enjoy unlimited in-house printing. Although the program's emphasis is digital photography, the professors still teach traditional photography and darkroom techniques with film. Students become proficient in a wide range of techniques and are skilled in today's leading image manipulation software, including Adobe Photoshop and Lightroom.
Cultivating Careers
Suffolk students benefit from hands-on education from experienced photographers and artists. "Most of our faculty are working professionals with MFA degrees," says Professor Keener. "We balance the program with both commercial understanding and fine art appreciation." In addition to photography courses, the curriculum includes courses in fine arts, business, journalism and more so that students receive a broad understanding of the fields related to their major. "Photography opens pathways to other careers in the arts, including graphic design, art education and more," says Professor Cyr.
Many of Suffolk's alumni are running their own wedding and commercial photography businesses, teaching, and exhibiting. "There are so many facets to art and photography," says Ms. Brooke. "For me, I absolutely love photographing weddings. I get to be a part of a couple's journey and provide them with a memory that will bring them joy forever."
Suffolk's program has an articulation agreement with the Fashion Institute of Technology, and many graduates also transfer to baccalaureate programs at SUNY New Paltz, SUNY Purchase, the School of Visual Arts, Hunter College, California Institute of the Arts, Rhode Island School of Design, and the Art Institute of San Francisco, to name a few.
For more about Suffolk's Photographic Imaging Program, simply call 631-451-4111 or visit sunysuffolk.edu/Enroll.