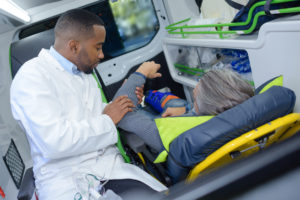 By Drew Fawcett
When emergencies happen, EMTs and Paramedics make the difference. When we need help the most, emergency medical technicians and paramedics are the ones we call. They make a life or death difference when car wrecks, heart attacks, strokes, falls, burns, drug overdoses, and other medical emergencies occur. They have to be composed, decisive, and compassionate as they provide medical care at the scene of an emergency and in transit to a hospital.
With more than 7.5 million people on Long Island and upwards of 100 separate fire and EMS agencies across Suffolk County alone, it's readily apparent why Suffolk County Community College's Paramedic Associate Degree is so vital. "There's a clear demand for skilled and experienced professionals who can deliver the highest level of prehospital emergency care," says Matt Zukosky, Assistant Academic Chair and Professor of EMT at Suffolk.
An emergency medical technician (EMT) and a paramedic are not synonymous. EMTs usually have less than 200 hours of training and provide entry-level pre-hospital care, while paramedics have in excess of 1,100 hours of training and are able to provide the highest level of prehospital emergency medicine care. "The College recognized an opportunity to offer residents the ability to earn a degree and become more marketable to fire and EMS agencies that are rapidly moving toward a system that includes both paid and volunteer professionals," Professor Zukosky points out. It's worth noting that Suffolk's Paramedic Program is the only degree-granting program east of New York City. "This allows Suffolk County residents to train, work and live right here," adds Zukosky. What's more, Suffolk's program provides exposure to different kinds of hospitals and EMS agencies across our region. "Suffolk County is not homogeneous and our students are able to get real-world experience in all kinds of hospitals and EMS agencies across our region. It makes for a well-rounded paramedic and provides students with a better perspective on how our many communities come together."
According to the U.S. Bureau of Labor and Statistics (BLS), employment of EMTs and paramedics is projected to grow 23 percent annually through 2022, much faster than the average for other occupations. In addition, the BLS noted that growth in middle-aged and elderly populations may lead to greater demand for EMTs and paramedics in the home health-care field and other specialized medical areas such as industrial safety. Paramedics are hired by emergency rooms and air rescue operations, opening even more career possibilities.
In order to gain admission into Suffolk's program, the candidate must already be an emergency medical technician. The program stresses mastery in advanced life-support skills, which will be accomplished in college laboratories, affiliated hospitals and advanced life-support ambulances. Classes are scheduled to maximize convenience for working adults. Financial aid is available and current EMTs may be eligible for tuition reimbursement under the SERVES grant (see related story).
"Suffolk really offers a great program," says Casey Tillman of Coram, N.Y. Before graduating from Suffolk's Paramedic Program in 2015, Mr. Tillman spend five years as an active duty U.S. Marine with a deployment as a sniper scout in Afghanistan. As a service member, Mr. Tillman became increasingly interested in the field of healthcare. He is now working as a paramedic for multiple fire departments in Suffolk County and is scheduled to complete his bachelor's degree as a registered nurse from Stony Brook University this spring. He now plans to work as an ICU nurse in order to attend Columbia University and become a Certified Registered Nurse Anesthetist (CRNA). "Suffolk's program offered amazing clinical experiences and put me in great learning environments, including an ambulance company and in the ER and ICU of a hospital," he says. "Because of this level of training, I had no problem getting a job."
For more about Suffolk's forthcoming Paramedic Program, simply call 631-451-4111 or visit www.sunysuffolk.edu/Enroll.
BREAKOUT BOX (needs a graphic)
Tuition Reimbursement through Suffolk County S.E.R.V.E.S. for Volunteer Firefighters and EMS workers The Suffolk Educational program for Retention in the Voluntary Emergency Services (S.E.R.V.E.S.) provides tuition reimbursement to student-volunteers for their service in Suffolk County for, up to 120 lifetime credit hours, attained at Suffolk County Community College and other New York State Education Department approved colleges or universities within Suffolk County. There is no restriction as to the type of academic program the SERVES student-volunteer chooses to pursue. To be eligible, students must be active members of EMS or fire departments in Suffolk County and meet other requirements. For full details, visit suffolksbravest.com.