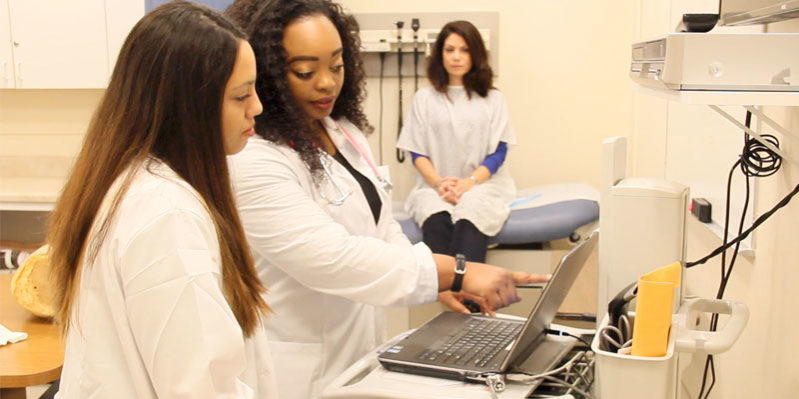 By Mary M. Feder
Learning can change lives. New skills bring opportunities to connect in different ways and to build the confidence that comes with mastering something you didn't know before. Maybe you're just looking to learn a little bit about something new or become more proficient at something you already love to do. At Suffolk County Community College, whether you need training for professional certification or want to learn more about a new interest, the Office for Continuing Education offers exciting options to meet your needs.
Through flexible noncredit classes at our three campuses in Brentwood, Selden and Riverhead, two satellite centers in Riverhead and Sayville, and online, Suffolk's catalog of continuing education classes can raise your career quotient. Many adult learners and nontraditional students take advantage of lifelong learning to advance careers, launch new ventures or grow personally.
The difference between noncredit and credit classes is that students who successfully participate in credit classes earn academic credit toward a certificate, associate, baccalaureate or other degree; those in noncredit classes do not. But don't think a lack of academic credit means a lack of opportunity to start a new career or bring enhanced skills to an existing one.
"With courses geared toward advancing or developing additional job skills, continuing education is a compelling way to become indispensable at your job, start a new career or advance to a new position," explains Arlene Jackson, College Assistant Dean in the Office for Continuing Education at Suffolk. "The attainment of continuing education certificates signifies that students have successfully mastered the course competencies by demonstrating the skills, and in some training programs, completing formal credentialing assessments. This can be valuable to an employer in the hiring process."
Professional Development
Suffolk offers a broad range of professional, noncredit courses to keep you current with the latest trends in your field, including courses often required for those in the educational, healthcare, social work, and construction sectors, as well as courses for real estate, business and industry professionals.
In addition, computer proficiency, using the internet and managing your work with software applications are expected skills in nearly every career today. Suffolk offers: Microsoft Office, QuickBooks, Photoshop, Web Development and much more to improve your computer skills.
Meet Career Mandates
Nurses, teachers, social workers, those in the construction industry and other licensed professionals are required by their licensing boards to acquire additional knowledge and training in order to maintain their licensing. Suffolk's Office for Continuing Education offers accredited classes to help these professionals.
Grant-Funded Programs
From time to time, the Office for Continuing Education offers grant-funded, no-tuition programs to the public. "The Surgical echnician Program is a grant-funded, one-year program, beginning on April 15, 2019, for qualified students with the knowledge and confidence to function independently and safely in a surgical operating room or similar, sterile environment," says Ms. Jackson.
Participants interested in this program must qualify and be dedicated to learning all the skills and techniques required to become a Certified Surgical Technician. Admission into the 2019 Surgical Technician Program is open to 10 applicants who meet the program criteria and eligibility. The coursework for this program requires a full commitment from the student including 120 clinical scrub-ins at an off-site hospital and/or surgical center.
Forty-seven-year-old Lisa Glasser completed the Ophthalmic Technician Program and Health IT Boot Camp. Both were tuition-free and were made available through a federal grant. She is now gainfully employed by SightMD. "Taking continuing education classes at Suffolk was life changing! The classes I took offered experienced teachers and a professional internship. In a very short time, I was able to transition into a brand-new career.  I now have a job that I absolutely love," she says.
Personal Enrichment
Individuals can also discover or fulfill a new interest through personal enrichment classes such as yoga, photography or foreign languages for business or travel. The College also offers a series of cooking classes for individuals and couples. These fun, casual evenings are designed to provide a basic level of culinary education. There are even agricultural classes for human sustainability offered on the Eastern Campus.
High School Students and Parents
High school students can take a noncredit, state-certified Driver and Traffic Safety Education course. Those who successfully complete the course will receive the MV-285 "Student Certificate of Completion" issued by the Motor Vehicle Department and will be eligible for a rate reduction in their automobile insurance and a senior license at 17 years of age. The College also offers SAT and ACT Prep classes and classes that prepare parents to assist their children and teens with common core school mathematics and inquiry-based science.
For more about Continuing Education and Professional Development, simply call 631-451-4114.