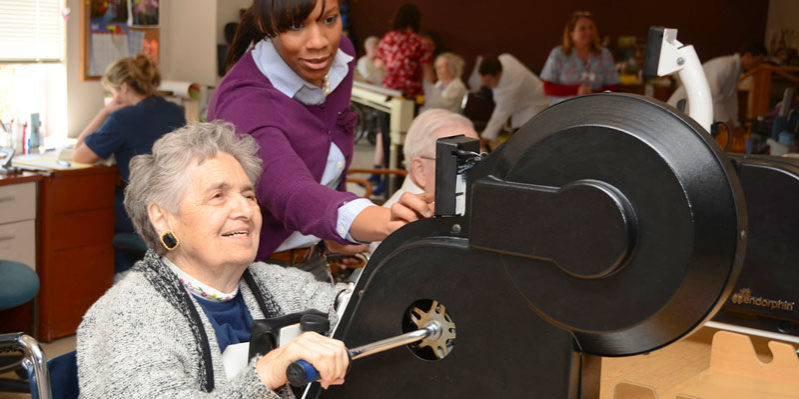 By Mary M. Feder
Physical therapy is a dynamic profession within the healthcare field with responsibility for preserving, developing and restoring maximum physical potential in people who are injured or at risk for injury. Treatment interventions may include procedures to prevent injury, promote wellness or restore lost function.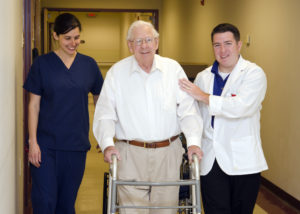 Physical Therapist Assistants (PTAs) work under the supervision of physical therapists in their daily activities, which include assisting patients during rehabilitation. This may include conducting therapeutic exercises, providing therapeutic massage, observing patients and evaluating data on a patient's progress.
Dr. Keith Perrucci, PT, Board-certified Orthopedic Physical Therapist and Assistant Professor and Program Director of the Physical Therapist Assistant Program at Suffolk Community College, has always had a passion for helping others. He remains connected to the field of physical therapy, preparing students to fill any gaps that may occur between classroom learning and industry practices.
"At Suffolk we offer a well-established PTA program dating back to 1969 when it was the fourth program developed nationwide. Students need to be committed to two years of hard work where personal life takes a back seat to the goal of a career. Very often, this program is one that attracts adult students returning to school to find a new career. We find that our students are very successful. PTA Program graduation rates for the past two years average 96%. Additionally, 100% of the graduates wishing to work in the field of physical therapy and responding to our survey have found jobs in physical therapy," says Dr. Perrucci.
Graduates of this program have found positions at Stony Brook Medicine, Northwell Health and Catholic Health Services, to name just a few.
Rigorous Curriculum
Suffolk's Physical Therapist Assistant Program has an extremely rigorous curriculum including two semesters of anatomy and physiology. The program admits a class of 26 students. There are four semesters plus four weeks of summer coursework, which includes all required prerequisites, general education, liberal arts and sciences, technical and clinical courses. The program application deadline is January 15th. The PTA Program is competitive and meeting minimum requirements does not assure acceptance into the program.
Strong interpersonal and communication skills are essential. Overall, students should have a good aptitude in science. The PTA Program offers challenging coursework so effective study habits and time management skills are also important.
New York State requires the passage of the National Physical Therapy Examination (NPTE) to work in this state as a PTA. The NPTE is a 200 question, multiple choice computerized examination. Students are required to take and pass the practice version of the NPTE in the fourth semester. "I am proud to say the licensure ultimate pass rate for the College's students has been 92% over the past two years," notes Dr. Perrucci.
"Suffolk's faculty is very dedicated, well prepared and extremely knowledgeable. They really prepared me for the exam and gave me insight on what to expect in the field. I was able to land my job before graduation," says Michael Scalesi, a graduate of Suffolk's PTA program who is currently employed at Our Lady of Consolation Nursing and Rehabilitative Care Center, a member of Catholic Health Services.
A Growing Field
According to Bureau of Labor Statistics, physical therapy is a field in which employment is projected to grow much faster than average. Overall employment for PTAs is projected to grow 30% through 2026. The demand for physical therapy will come from aging baby boomers, who are not only staying active later in life, but are more susceptible to health conditions that may require physical therapy. In addition, physical therapists will be needed to treat people with mobility issues stemming from chronic conditions, such as diabetes or obesity.
"On Long Island, the average PTA starting salary is in the range of $42,000 – $48,000 in an outpatient setting or $52,000 – $58,000 in a nursing home setting," says Dr. Perrucci. "Individuals who are ambitious, compassionate, creative, enthusiastic and good communicators by nature tend to be perfect candidates for PTA jobs."
For more about Suffolk's Physical Therapy Assistant Program, simply call 631-451-4111 or visit sunysuffolk.edu/Enroll.