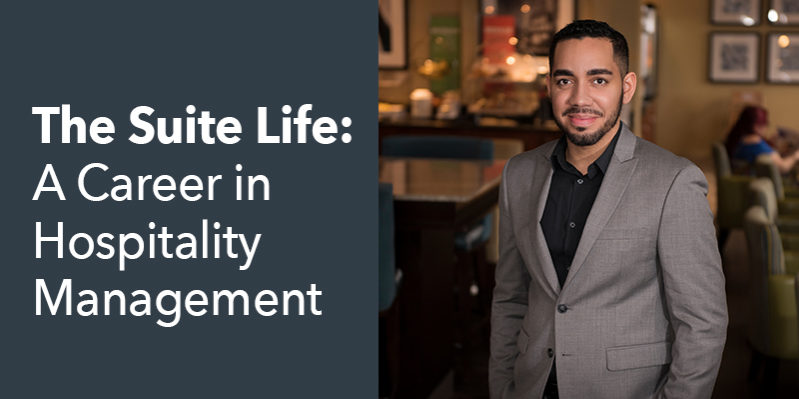 As home to the Hamptons on the South Fork and world-recognized vineyards on the North Fork, it's no surprise that the East End of Long Island is regarded for its resorts, restaurants and towns swelling with tourists. On Long Island's East End, the hospitality industry is king, and the Hotel and Resort Management program at Suffolk County Community College, strategically situated in Riverhead, is tailor-made to prepare students for rewarding careers in this booming industry.
The hospitality industry is the nation's and the world's biggest employment industry, including restaurants, lodging, theme parks, cruise lines, and more. In fact, there are approximately 52,000 hotels and more than 1.7 billion hotel rooms in the U.S. alone.
"This program will challenge you," says Gary Wood, Associate Professor of Culinary Arts at Suffolk. "But, upon completion, our students are fully prepared to succeed." With more than 20 years of experience at Marriott International and 10 years teaching at Suffolk's Hotel and Resort Management Program, Professor Wood has a keen knowledge about the industry and the types of individuals who can create successful careers. "Earning a degree or certificate in Hospitality Management can make climbing the industry ladder much faster. A strong educational background helps you jump past some of those entry-level positions," he says. "It gets your foot in the door."
As the name implies, Suffolk's Hotel and Resort Management degree and certificate programs are designed for individuals with a career interest in the lodging and resort industries. These fields represent everything from the small country inn or bed and breakfast, to multinational hotel chains and resorts. Management opportunities exist in front-office operations, food and beverage management, banquet-meeting sales, human resources, facilities management and more.
Through an innovative partnership with SUNY Delhi, students who earn an associate degree at Suffolk's Hotel and Resort Management program can transfer directly into SUNY Delhi's bachelor degree program without ever leaving Suffolk's Culinary Arts and Hospitality Center on Main Street in Riverhead. That means that students who are learning on the East End can continue to work on Long Island.
Frederick Hansley graduated from the program in 2012 and was able to land a job right away at the Residence Inn in Holtsville as a result of connections made through the College's job fair. Now, as the General Manager of the Hampton Inn in Islandia, N.Y., he reflects fondly about his education at Suffolk. "The professors have real-world backgrounds and I appreciated how the program is designed to provide hands-on experience for students," he says.
"We view Suffolk's program as a pipeline of talent for us," says Steven Schauger, General Manager of the Hyatt Place East in Riverhead, N.Y. Suffolk students are regularly placed as interns at the Hyatt Place East End and many have then become employees. "We have found that Suffolk students are well prepared to step up to the challenges of working in the industry. We've also had current employees who have taken classes at Suffolk to enhance their skills."
More than 36,600 people are employed in the hospitality industry in Suffolk County
There were 88,400 hotel industry jobs across New York State in 2015
The number of hotels in New York State increased by 17% between 2006 and 2015
Median annual salary for a hotel manager in the NY area is $110,499 (payscale.com)
For more about Suffolk's Hotel and Resort Management Program, simply call 631-451-4111 or visit sunysuffolk.edu/Enroll.
– Drew Fawcett
Want to learn more? Tell us what information you're looking for in the form below.