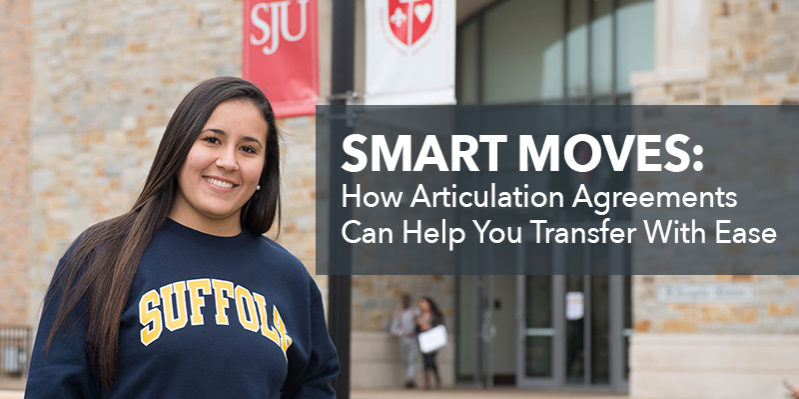 Did you know that Suffolk County Community College prepares students for transfer to four-year colleges and universities? With the assistance of our counselors, students routinely transition to a variety of baccalaureate programs on Long Island, around New York State and throughout the nation.
Ensure a Smooth Transition
Articulation agreements are negotiated documents that clearly define what's needed to transfer from one higher education institution to another and ensure that credit is granted for all appropriate courses and programs of study. The partnership is an agreement between a two-year and four-year institutions and outlines the specific courses and grades required, which can be transferred to the four-year college or university for the programs covered under the agreements.
This specific outline of transferable coursework along with details of other stipulations within the agreements takes the guesswork out of the process and enables students to comfortably transfer from a community college to a four-year college or university.
Some articulation agreements are known as joint admissions or dual admissions agreements. This is a type of articulation agreement whereby the student is accepted for enrollment into both institutions simultaneously. Under a joint admissions agreement a student begins at community college and enters the partner four-year college or university with junior status when he or she graduates.
Dr. Paul Beaudin, Interim Associate Vice President for Academic Affairs at Suffolk County Community College, says, "With articulation agreements there is maximum credit transfer and minimum credit loss. This ensures timely graduation."
Aspire to a Four-Year Degree
Community colleges are often stepping stones for students interested in a variety of careers, and research shows that community college students who go on to four-year institutions have a high graduation rate.
Dr. Beaudin agrees with this, noting, "Suffolk students are goal-oriented and very successful. Our four-year institution partners know this. They believe in the integrity of our degree––so much so that they are creating pathways for our students at their institutions."
By visiting sunysuffolk.edu/TransferOpps students can find a list of the institutions with which Suffolk has articulation agreements. Suffolk has currently entered into articulation agreements with a variety of colleges and universities, close to 40 institutions, to provide a simplified, guaranteed transfer process for students.
Articulation agreements are modified from time-to-time and students are advised to check this site periodically to see what new opportunities are available to them.
Two of the more recent agreements added to the site include new partnerships with Stony Brook University and St. John's University.
The articulation agreement with Stony Brook University is for the Nursing First Program. Under this articulation agreement, Stony Brook will reserve 65 spots in its Nursing Program for Suffolk RN students with GPAs of 3.0 or better allowing them junior status at Stony Brook after graduating from Suffolk.
Through a new articulation agreement with St. John's University, Suffolk graduates with a 2.0 GPA or better can enjoy a $17,000 scholarship for certain programs of study.
An articulation agreement with Farmingdale State College is available for automotive and nursing students and other agreements exist with St. Joseph's College, LIU, Vaughn College, and NYU – just to name a few!
Continuous Pathways at SUNY
Within the SUNY system, transferring has also become more seamless because Suffolk credits are accepted at all SUNY institutions.
"When we develop a new program, we make sure it leads to another SUNY program so we are certain our students have a continuous pathway," says Dr. Beaudin.
After consulting the site, a student should meet with a transfer counselor at his/her home campus and should confer with the transfer counselor of the four-year college or university and keep their advisor informed of transfer plans. As transfer approaches, students should set a time to meet with an advisor at the target institution.
– Mary M. Feder
Suffolk County Community College has articulation agreements with close to 40 schools including:
Adelphi University
Berkeley College
Five Towns College
Hofstra University
Long Island University
Molloy College
New York Institute of Technology
New York University
Pace University
Queens College
St. John's University
St. Joseph's College
SUNY Binghamton
SUNY Buffalo
SUNY Cortland
SUNY Farmingdale
SUNY Oswego
SUNY Stony Brook
The College of St. Rose
Touro College
Want to learn more? Tell us what information you're looking for in the form below.