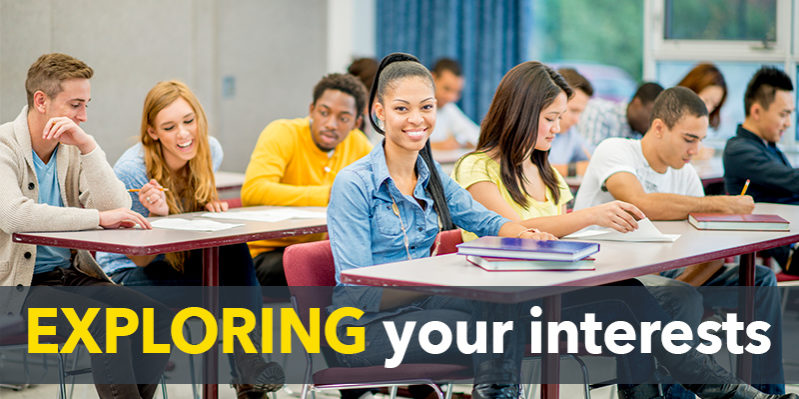 Since 2008, a focus of higher education has understandably been jobs, jobs, jobs. Providing marketable skills are a core mission of community colleges, and when the economy is sour, their role assumes a critical importance.
Beyond the program-specific courses in a given major, college students enrolled in A.A. and A.S. programs are required by the State University of New York (SUNY) to complete 30 credits of general education classes in subjects like mathematics and communication.
Students may also take "elective" classes of their own choosing, rounding out the number of credit hours they need to graduate. Suffolk County Community College offers upwards of 70 programs of study with classes that appeal to a broad range of interests, ranging from theatre arts and paralegal studies to criminal justice and creative writing. These "extra" classes are far from filler material. In fact, electives can be extremely important in identifying a student's passion and their direction after school.
Exploring Options, Discovering Passion
In some cases, students start college knowing exactly what they want to do with their lives and their studies are shaped around their career goals. But what if you're unsure of what to major in, or the career path you're on isn't working out?
This isn't unusual. In fact, the National Center for Education Statistics reports that 80 percent of college students change their majors at least once and, on average, college students change majors at least three times.
This dilemma of self-discovery can tack on years – and thousands of dollars – to the college process. However, self-discovery doesn't have to become a substantial delay in college completion.
An advisor can help determine what area of study best suits your abilities and interests. Say you already know what you don't like, but you don't yet know what suits you well. Maybe you like helping people, but you don't have the stomach for a profession like nursing or paramedic. Electives can play a pivotal role in discovering your true calling. Try out classes that might be aligned with your interests. Medical care might be too intense, while a course in child development or psychology might be the entryway to a fulfilling new career path.
Honing Soft Skills and Preparing for Transfer
Many elective classes complement program-required courses or help hone skills that are coveted in the workplace. Speech, writing, foreign languages, business management and math classes are all directly applicable to most professional fields. Art, music, history and other humanities classes are no less valuable to developing "the whole person."
The most frequent complaint managers have of young employees is not that they lack education, but that they need to improve their "soft skills" including the ability to communicate and work well with others. A survey by job site CareerBuilder.com found that 77 percent of employers consider soft skills just as important as the "hard skills" their workforce was trained to perform. This is exactly where those "extra" classes come in. Electives help to broaden your worldview, hone critical thinking skills, and encourage better communication and collaboration.
Taking elective classes can also help lay the foundation to transfer to another college or university for a bachelor's degree. "Use unrestricted electives with a purpose," says Matthew Okerblom, Assistant Dean for Curriculum Development at Suffolk. "Taking classes required at the college a student plans on transferring to will reduce the amount of courses needed later on. Look on the website of a college of interest, or set up an appointment with an advisor to determine what courses are required."
To learn more about electives and accredited programs of study at Suffolk, simply call 631-451-4111 or visit sunysuffolk.edu/Enroll.
Chart your course
Chart Your Course! At Suffolk, Academic Advisors are available at each campus to help students discuss what classes to take, explore majors, and map out graduation plans. Counselors are also available to help students assess their strengths and define their interests. It all starts by simply scheduling an appointment.
Want to learn more? Tell us what information you're looking for in the form below.