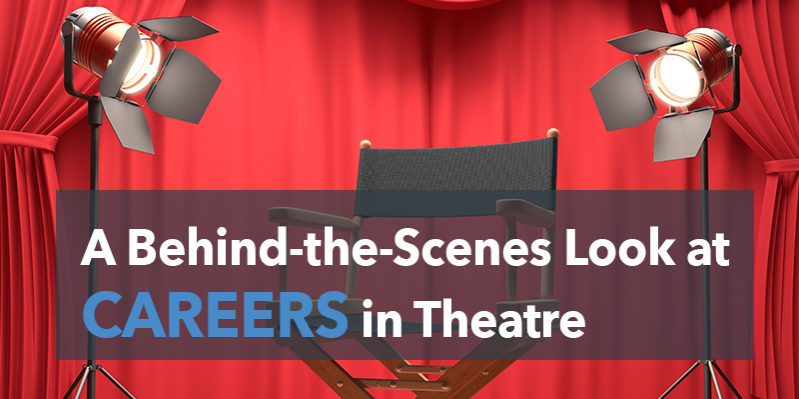 A career in theatre isn't always about shining on center-stage. For countless individuals, it's about everything that happens off stage that helps to create a perfect performance. Although widely recognized for training students in the art of acting, the Theatre Arts Program at Suffolk County Community College prepares students for a multitude of opportunities the industry has to offer – from acting to set building to stage management.
"Our productions span all genres of theatre, from Shakespeare to Shepard, from mystery plays to musical theatre," says Charles Wittreich, Suffolk's Director of Theatre and Professor of Theatre Arts. "Not surprisingly, Suffolk students gain exposure to virtually every aspect of life in the theatre."
Suffolk's program provides theatre training as a powerful form of experiential learning that prompts students to grow as individuals, critical thinkers, and artists. Through classroom work and practical training, the Theatre Department produces works of theatre art, offering direct participation in creative endeavors where process, performance, and understanding are stressed equally. The production program stages several shows each year that are directed and designed by faculty, guest artists and, in some instances, advanced students chosen by the faculty. The Theatre Arts A.S. Degree provides the foundation for transfer into B.A. or B.F.A programs and, in some instances, direct employment in the field. Graduates of Suffolk's Theatre Arts Program currently work in the television and music industries, in various entertainment-related businesses, with professional theatre companies, and behind-the-scenes on Broadway productions.
"Our graduates are involved in all aspects of the industry and can be found everywhere from Broadway to Hollywood," says Professor Wittreich. "Christine Bieselin Clark is a graduate who has designed costumes for major films, including Spy, The Maze Runner, and Ender's Game. Brian MacDevitt is a multiple Tony Award-winning lighting designer who is currently working on The Front Page on Broadway. Marie Danvers is a distinguished alumna who played Christine in Phantom of the Opera. Eileen Schellhorn is a professional voiceover agent. I could go on and on."
"Like many students, I entered Suffolk's theatre program focused on acting, however, because the program is so well rounded, students are exposed to all of the crafts that make up a production. My first semester in Suffolk's costume shop is where I found the passion that would shape my career. The opportunities I had at Suffolk cultivated my skills and gave me the confidence to pursue costume design as a profession."
Christine Bieselin Clark, professional costume designer
What Can You Do with a Theatre Degree?
There are a variety of career paths that are available to students who study theatre arts. Some of these include Artistic Director, Casting Director, Director, Makeup Artist, Marketing/Publicity Director, Music Director, Playwright/Screenwriter, Production Manager, Sound Designer, Talent Agent, Theatre Critic, Technical Director, Voiceover Artist and more. Here are just a few avenues that are open to students in Suffolk's Theatre Arts program:
Lighting Design
Lighting designers are essential to help create onstage effects that can change at will to reflect the mood of the action and help tell a story. At Suffolk, students are able to gain experience translating a lighting design for a specific script to the stage. These experiences include creating or reading designs, organizing the setup period, preparation of charts, plugging, rigging, hanging, focusing of instruments and running the production.
Set Design
Set designers are in charge of designing and creating the environment (scenery, furniture and props) that help tell a story and appear in theatres, films and TV programs. At Suffolk, students are introduced to the principles and practices of scenic construction, painting, rigging and stage mechanics.
Costume Design
Costume designers create the look of each character by designing clothes and accessories that actors will wear in a performance. At Suffolk, students will learn basic sewing and costume construction and have the opportunity to create costumes for actual College productions.
Acting
With proper training, actors bring written words and actions to life through the creation of fully formed characters. At Suffolk, students learn techniques of acting through scene studies, improvisation, research, class exercises and actual productions. Students can also study stage combat and staged choreography.
Shining at Kennedy Center American College Theater Festival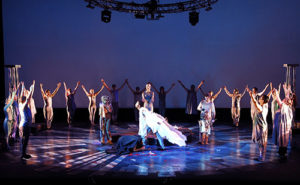 As proof of their versatility and preparedness, Suffolk students are repeatedly recognized at the prestigious annual Kennedy Center American College Theater Festival (KCACTF) where students from across the region and nation compete in acting and technical theatre. Over the years, Suffolk students have continually received national acclaim. Just this past winter, several Suffolk students were cited, including Peter Tarantino, who took the top prize for the Irene Ryan acting audition in KCACTF Region II and will be going to Washington, D.C. in April to compete in the nationals with his scene partner, Greg Kowlesar. In addition, Ryan Antovel took home the Barbizon Award for lighting design and will also be going to Washington, D.C. They are each one of only eight students chosen from the entire nation to attend.
"These awards continue to be a testament to the quality of our theatrical productions, as well as the incredible commitment our faculty have in expanding and enhancing the learning opportunities for our students," says Suffolk President Dr. Shaun McKay.
In addition to preparing students for careers in the performing arts, the Theatre Arts program at Suffolk equips students with a broad range of communication and organizational skills applicable to many careers. The program can lead to success in the fields of business, marketing, public relations, sales and communications. In short, students acquire values and soft skills invaluable to any employer, including presentation and communications skills, critical thinking, teamwork and problem-solving.
– Drew Fawcett
For more details about the Theatre Arts Program at Suffolk, simply call 631-451-4111 or visit sunysuffolk.edu/Enroll.
Want to learn more? Tell us what information you're looking for in the form below.